CONTINUE YOUR TOUR OF MAISON DU CAMEMBERT
Enter the heart of the workshops of the Clos de Beaumoncel Cheese Factory through a corridor of glazed galleries.
The Clos de Beaumoncel cheese factory welcomes you in the heart of the village of Camembert. With these two juxtaposed buildings in half-timbering, stone and brick, the cheese factory produces, in the heart of the village, farmhouse Camembert de Normandie AOP ladle-moulded by hand.
A historic moment for Camembert since, for the first time in its history, or at least since Marie Harel (1761-1844), a cheese factory stands in the very heart of the village, the cradle of this iconic cheese known throughout the world.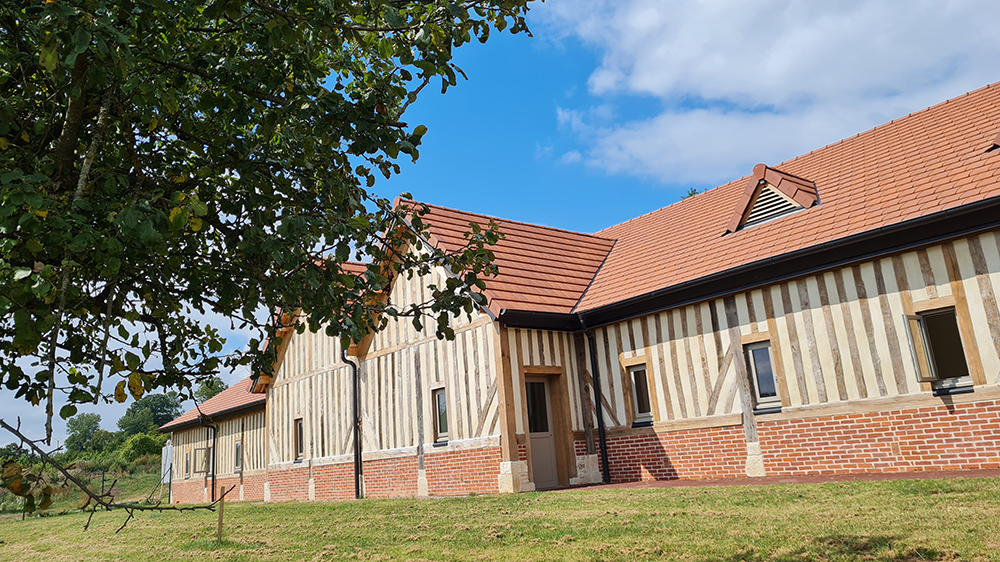 Le Clos de Beaumoncel cheese factory came on stream on 18 August 2021.
"Above us, there are 230 years of history watching over us", says Xavier Cassigneul, agricultural engineer and former manager of Graindorge, now at the head of the Clos de Beaumoncel Cheese Factory.
MASTERING THE PRODUCT
"It's a privilege to do my job the way I want", says Xavier Cassigneul, who has mastered his product "from blades of grass to Camembert". He acknowledges that "you have to stay humble. We work with living things, and nothing is ever taken for granted."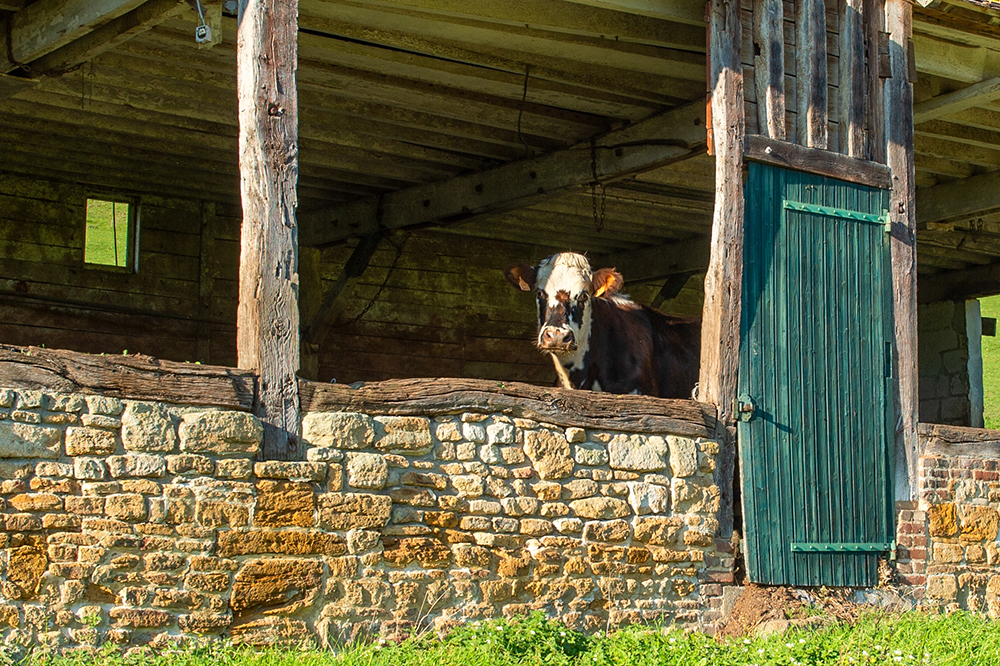 The cheese dairy is fed daily by the production of 115 dairy cows from the Vimer farm, a place committed to a process of converting to organic.
The objective is to produce a farmhouse, organic AOP cheese, ladle-moulded by hand.
We took delivery of the building on 14 July. It's a new building. We had to undertake a cleaning process, disinfection and seeding with positive lactic acid bacteria to create a healthy environment that's ideal for the production of raw milk Camembert. It's nature that does its job and you never know how long it's going to take to find that essential balance.

Xavier Cassigneul – Manager of the Clos de Beaumoncel Cheese Factory
On 18 August 2021, the first Camemberts were produced. "We started with 500, then 800, then 1000. Everything went perfectly. We're very satisfied technically. Once the battery of analyses had been completed, including bacteriological ones, the results were quite interesting."
Camembert de Normandie is packaged after 13 days and ready for sale after 21 days, given that "we have a Camembert de Normandie that's very white and chalky, the ideal being to wait another month. It all depends, of course, on taste."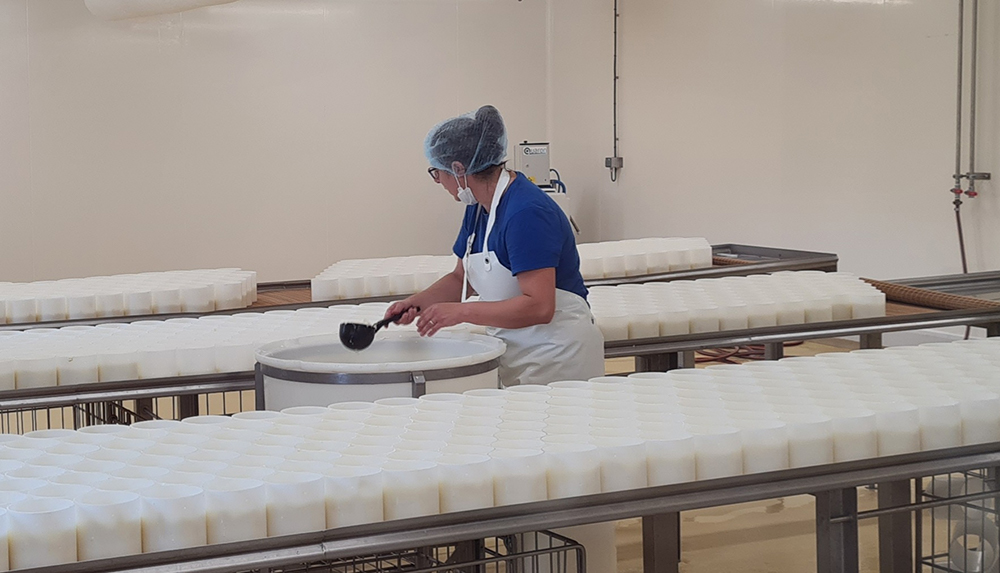 Part of the production will be sold locally by Xavier Cassigneul, in all likelihood at Maison du Camembert. A visitor corridor has been created to allow visitors to the Maison de Camembert museum to see the production.
GENESIS OF THE PROJECT
Xavier and Stéphanie Cassigneul have been leading this project to create a cheese factory since 2015.
After considering locating at the Vimer farm in Guerquesalles, the idea of producing Camembert in the village of Camembert came quite naturally to them.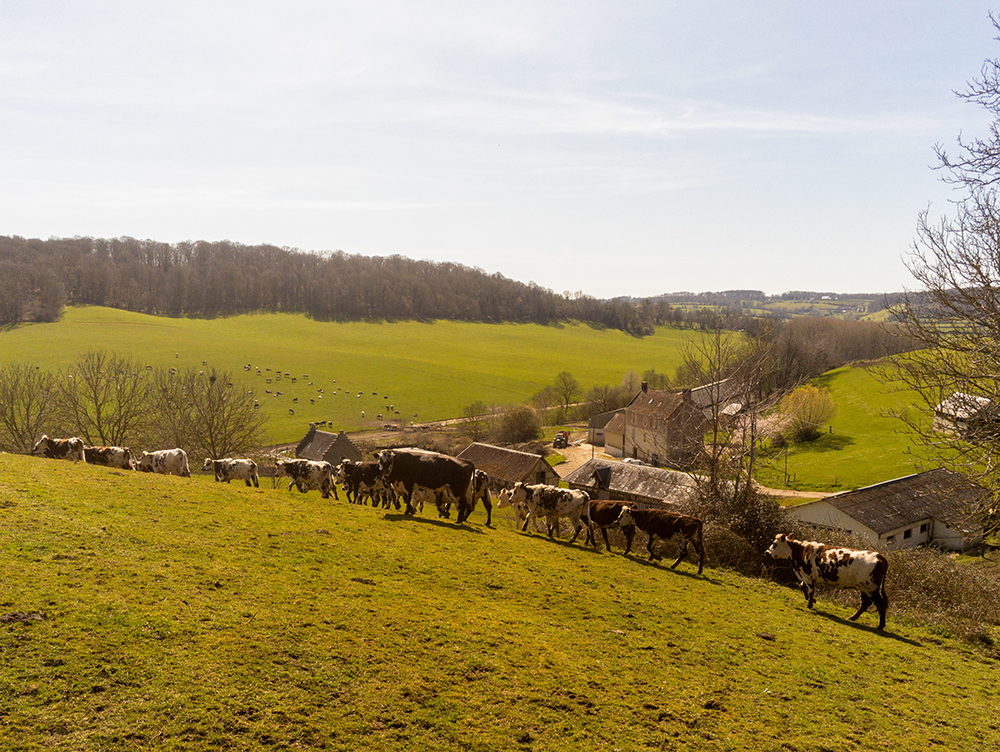 Key Figures
900m²
August 18 2021
Launch of production
1000
Camemberts/day
4
Employees
5
Ladles per Camembert de Normandie
Now get up close to the windows and discover each step of manufacturing Camembert de Normandie AOP.
THE FARM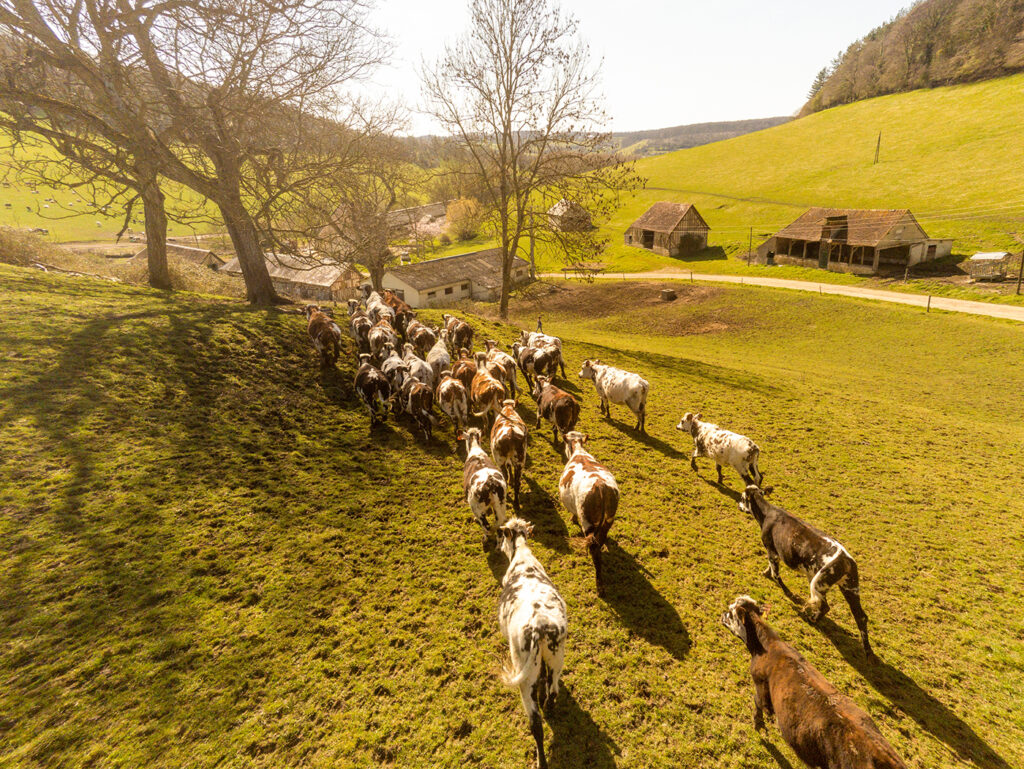 In 2018, Stéphanie and Xavier Cassigneul took over Château de Vimer farm, an operation located in Guerquesalles, a town near Camembert. Today, the Camemberts produced at the cheese factory come from the farm's 115 dairy cows. The herd, 95% of which are Normandy cows, mainly enjoys grass and grazing eight months of the year. The farm has 200 hectares, 90 of which are pasture, and produces some 2000 litres of milk every day, which are brought to the cheese factory every morning.